The Paul Carlson Partnership has a 50+ year history in Congo. In November of 1964, Covenant missionary Dr. Paul Carlson was martyred in Congo by Simba rebels. Today we honor his legacy by serving the same medical system, run by the Covenant Church in Congo (CEUM).
PCP's mission is to catalyze the growth of self-sustaining families and communities in places of deep poverty in Central Africa. Working together with partners in Africa and elsewhere, we invest in local efforts in medical and economic development.
This 50+ year legacy in the Democratic Republic of Congo has changed over the years, but our focus on medical and economic development has remained rooted in partnership. We focus on improving
medical care
by working alongside medical directors and doctors who oversee the healthcare system in the northwest region of Congo. We multiply impact by training Congolese medical professionals through our
Medical Ambassador
volunteer program.
Economic development
remains a crucial area of partnership because of obstacles our partners face due to extreme poverty. Focusing on capacity building and sustainability, we contribute to the development of projects, individuals, and organizations committed to long-term growth. We aim work with, not for, people who are making a difference in their own communities.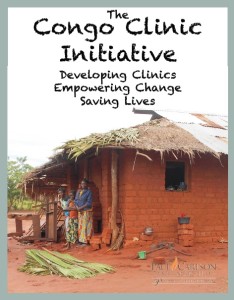 From 2014 – 2019 CCC partnered with the Paul Carlson Partnership to sponsor the Bodolungba clinic. During that time resources were given to have solar panels installed on the clinic, stock their supply cabinets, give further training to the medical workers and provide access to clean water.
The Karawa Coffee Project is designed to be
100% owned by the coffee producers
. This will be achieved in part through training in good agricultural practices, and in part by organizing the producers into a cooperative or association in order to provide long-term support for export and other services, and to safeguard producer interests in the marketing of their crops.
By training and equipping people to grow coffee, the local economy can be revitalized, increasing the livelihoods of thousands of families in the area.