Children's Ministry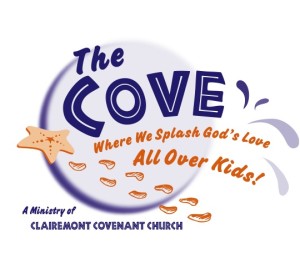 Loving Kids So They Will Love God and Love Others
Our children's ministry seeks to provide a safe and fun place where children can begin a relationship with God and develop a firm spiritual foundation through Biblical teaching, loving relationships and opportunities to serve and love others
The Cove: Our sheltered bay is a place where kids feel welcomed, accepted and loved as they enjoy fun with friends while uncovering and exploring a friendship with Jesus, all within the safety of God's love.
Our Tidepool Room is a place where babies, 1's, 2's, and 3's can play and discover truths about God on Sunday mornings.
Sunday Morning "Kids Life": During the church service The Tidepool (babies – 3s) and Kid's Life (Pre-K/K & Elementary) program provide a safe, caring, fun and age-appropriate environment where kids come to know God through Bible stories and engaging activities. Children begin in the worship service with their parent(s) and will then be dismissed after about 10 minutes.
Wednesday Night "Kids Krew": On Wednesday night friends gather for a time of fun and faith. A family dinner is served at 6 p.m. for a nominal cost ($3/person or $10 family) and at 6:30 the kids get to know their leaders, peers and Jesus as they participate in games, crafts, music and small group Bible time. The kids are broken up into three different groups based on age/grade:
Kid's Krew Jr. – Pre-K(4 yrs.)/Kindergarten
Kid's Krew – 1st – 3rd Grade
Club 45 – 4th & 5th Grade
Due to the declaration of a National Emergency, we will not be having any Wednesday Night Programs through the end of March. We won't be hosting programs on April 1st because SDUSD is on Spring Break or April 8th in honor of Holy Week. Our next Wednesday Night Program will be on Wednesday, April 15th.
Old and new friends are always welcome! There is no cost, but a registration "Health & Release" form is necessary. You can go to the below link and download the form, fill it out and bring it with you. Forms are also available when you sign in.